We at Beyond Squarefeet, are backed with a professional approach to our business practices. To support us in our knowledge and industry information, we are proudly affiliated with many government recognised associations/institutes/authorities, both nationally & internationally.

The Crisil Rating Certificate
In March 2013 Beyond Squarefeet was rated SE-3A by CRISIL. Here, SE stands for Small Enterprise and 3A is AAA.

Middle East Council of Shopping Centres
The Middle East Council of Shopping Centres is based in Dubai and is a voluntary non-profit association. Established in 1994, the council has over 800 active members, presided over by Majid Saif Al Ghurair, President of the BurJuman Centre. MECSC represents shopping mall owners, developers, marketing managers, leasing managers and specialists, retailers, consultants, property managers, financiers, accountants, government officials and industry suppliers. MECSC covers a territory of 17 countries including Algeria, Egypt, Morocco and Tunisia in North Africa, Jordan, Lebanon, Palestine and Syria in the Levant, the six Gulf Cooperation Countries (GCC) of Bahrain, Kuwait, Oman, Qatar, Saudi Arabia and the United Arab Emirates, as well as Iran, Iraq and Yemen.

International Council of Shopping Centres
Founded in 1957, the International Council of Shopping Centres (ICSC) is a global trade association of the shopping centre industry. Its 60,000 members in the U.S., Canada and more than 80 other countries include shopping centre owners, developers, managers, marketing specialists, investors, lenders, retailers and other professionals as well as academics and public officials. As a global industry trade association, ICSC is linked to more than 25 national and regional shopping centre councils around the world. The principal aims of ICSC are to advance the development of the shopping centre industry and to establish individual shopping centres as a major institution in the community.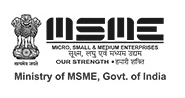 Ministry of MSME
MSME is a Government of India initiate to protect & safe guard the interest of Micro, Small & Medium Enterprises. The Government of India, not only support such enterprises, but also promotes them under the law.